The components of Algerian tourism and ways to develop the tourism culture for Algerians
Imen GAMASS

University of Skikda

Sihem Boughandossa

University of Tlemcen
Keywords:
Tourism, tourism components, development of culture
Abstract
    Saharan tourism is no longer an entertaining; but it has become an economic industry that states at all levels pay great attention to, as they spend billions of dollars on it for its large economic and investment returns. Algeria is one of these countries that possesses enormous tourism potentials, where the necessity imposed upon it to keep pace with its counterparts by raising the level of care in this sector, and trying to develop awareness and create a tourism culture among Algerians, in order to contribute to improving the country's economic capabilities and achieving the general welfare of society.
References
1-هدير عبد القادر، "واقع السياحة في الجزائر وآفاق تطورها"، مذكرة ماجستير، جامعة الجزائر،2006.
2-هناء حامد زهران، الثقافة السياحية وبرامج تنميتها، عالم الكتاب، الطبعة الأولى، القاهرة،2004.
3-حسين محمد أبو العسل، مستوى الوعي السياحي لطلبة المدارس لإقليم الشمال، الأردن، على الموقع: http://kenanaonline.com/users/SahamAlkefarat/posts/63391
4-حمدي عبد العظيم، اقتصاديات السياحة-مدخل نظري علمي متكامل-، مكتب الزهراء للشرق،1997.
5-محمد مرسي الحريري، جغرافية السياحة، دار المعرفة الجامعية، الاسكندرية،1999.
6-محمد عبد الفتاح أحمد وطايع عبد اللطيف طه، الجغرافيا السياحية، المكتب الجامعي الحديث، الإسكندرية، مصر، 2009. 16-الوكالة الوطنية للنشر والإشهار، الدليل الاقتصادي والاجتماعي، الجزائر، 1989.
7-محيا زيتون، السياحة ومستقبل مصر بين إمكانيات التنمية ومخاطر الهدر، دار الشروق، القاهرة،2002.
8-مثنى طه الحوري وإسماعيل محمد علي الدباغ، مبادئ السفر والسياحة، الطبعة الأولى، مؤسسة الوراق، الأردن،2001.
9-علي الخشيبان، "ترسيخ الثقافة السياحية في المجتمع-الصعوبات والتطلعات"، على الموقع الالكتروني:
www.aleqt.com/2007/07/29/article_102503.html?related 25 / 12 /2011
10-صليحة عشي، الآثار التنموية للسياحة-دراسة مقارنة بين الجزائر وتوس والمغرب، مذكرة ماجستير علوم اقتصادية، جامعة باتنة،2005.
11-ريان درويش، الاستثمارات السياحية في الأردن، مذكرة ماجستير في العلوم الاقتصادية، جامعة الجزائر،1997.
12-خالد مقابلة وفيصل الحاج ذيب، صناعة السياحة في الأردن، دار وائل للنشر، ط1، الأردن، 2000.
13-Ministre de tourisme، sitev 2005, sept sites algériens figurent patrimoire culturel de l'Unesco ; 2005.
14 – The Travel and Tourism Competitiveness, report 2009, World Economic Forum, GENEVA, SUITZERLAND.
15-Rebert Lanquar, Le tourisme international, Séri que sais – je, N0 1694, France, 1981.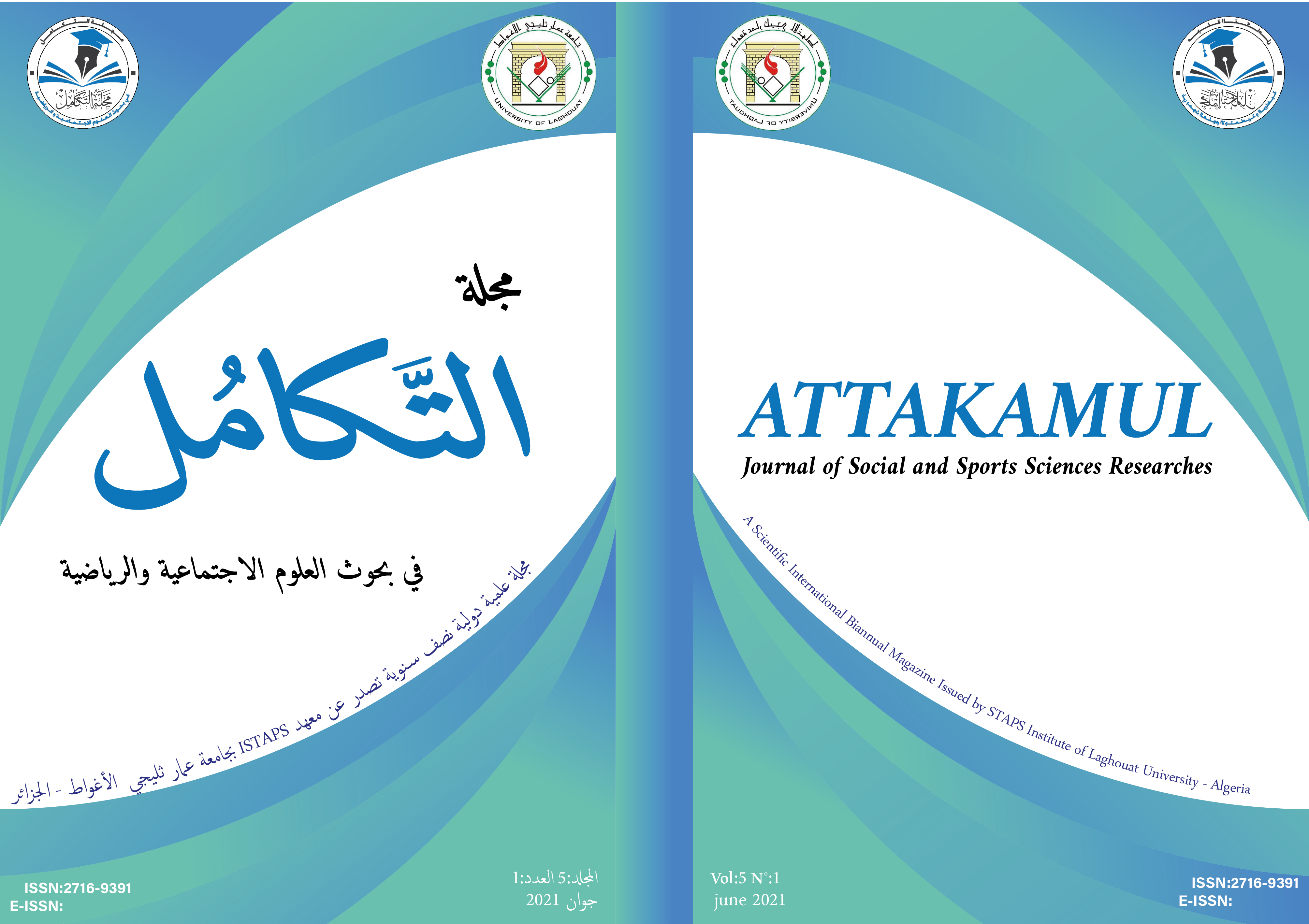 Copyright (c) 2022 https://creativecommons.org/licenses/by-nc/4.0/
This work is licensed under a Creative Commons Attribution-NonCommercial 4.0 International License.