Forms of water erosion and its effects on environmental dynamics, cases from northeastern Morocco
مواديلي عمر

اسباعي عبدالقادر
Keywords:
Forms of erosion; environmental dynamics; Oued El Abed and Tlagh watershed, northeastern Morocco.
Abstract
Northeastern Morocco in general, and Oued El Abed and Tlagh watershed in particular, are known for several manifestations of land degradation as a result of water erosion. They vary in terms of the mechanisms of their formation due to the multiplicity and overlap of natural and human factors, and their various forms, such as sheet erosion, concentrated runoff and gullying.
Through this paper, the manifestations of erosion and their spatial distribution in the two basins were inventoried in order to try to understand and elicit what this distribution of these forms reflects, in terms of their impact on the environmental dynamics due to the deterioration of these lands, and then determine the area and proportion of each aspect separately.
For this purpose, high-resolution satellite images, and frequent visits to the field to check and confirm, were relied upon, in order to be able to draw various forms of erosion distributed in the studied field.
References
أبهرور محمد، إسهام في التقييم الكمي للتعرية المائية بمقدمة الريف الشرقي (نموذج حوض واد الثلاثاء). بحث لنيل شهادة الدكتوراه في الجغرافيا. كلية الآداب والعلوم الإنسانية، جامعة سيدي محمد بن عبد الله، سايس. المغرب، 2009، 291ص.
الراي هاجر، تعرية الضفاف بالوادي الحي وانعكاساتها على توحل السدود (المغرب الشرقي). بحث لنيل شهادة الماستر، كلية الآداب والعلوم الإنسانية – وجدة. المغرب، 2021. 150ص.
رحو محمد، التعرية في مقدمة الريف الأوسط: المنطقة البينهرية اللبن-سبو-ورغة استمرار للتطور الطبيعي، منتوج مجتمعي. أطروحة لنيل دكتوراه الدولة في الجغرافيا، كلية الآداب والعلوم الإنسانية – الرباط. المغرب، 1999. 698ص.
شاكر ميلود، كتلة بوخوالي وسهل العيون (المغرب الشرقي)، الدينامية الحالية للسطح بين الهشاشة الطبيعية والضغط البشري، أي آفاق وأي استراتيجيات. بحث لنيل دكتوراه الدولة في الجغرافيا، كلية الآداب والعلوم الإنسانية، جامعة محمد الخامس - الرباط.المغرب، 1998، 275ص.
عثماني مصطفى، الدينامية الحالية للسطح ومظاهر التدهور بسهل تفراطة وهوامشه. بحث لنيل شهادة الدكتوراه، شعبة الجغرافيا، كلية الآداب والعلوم الإنسانية، جامعة محمد الخامس، الرباط، المغرب. 2015، 368ص.
غزال محمد، الموارد المائية بشمال المغرب الشرقي – التدبير والاستغلال والإكراهات. بحث لنيل دكتوراه الدولة، كلية العلوم، جامعة محمد الأول – وجدة، المغرب. 2007، 584ص.
فالح علي، التقييم النوعي والكمي والنمذجة المجالية للتعرية المائية بحوضي أكنول ومركات (مقدمة الريف الشرقي والأوسط). بحث لنيل دكتوراه الدولة في الجغرافيا، كلية الآداب والعلوم الإنسانية، جامعة محمد الأول، وجدة.المغرب. 2004، 372ص.
الكتيف مصطفى، تدهور الأراضي والتقييم الكمي والنوعي للتعرية المائية بالحوض النهري لكريفلة الأسفل. بحث لنيل شهادة الدكتوراه، شعبة الجغرافيا، كلية الآداب والعلوم الإنسانية، جامعة محمد الخامس، الرباط. المغرب، 2018. 231ص.
مواديلي عمر واسباعي عبد القادر والحافيظ إدريس والسعيدي عبد الواحد وعثماني مصطفى وبوعبدالله مصطفى، تقييم خطر التعرية المائية باستعمال المقلد المطري RAMP: دراسة للسلوك الهيدرولوجي وأنماط الاستغلال، حالة ممر تاوريرت – جرسيف. أعمال الندوة الدولية حول: المخاطر الطبيعية وتهيئة التراب. وجدة، 9-10 نونبر 2018. منشورات جامعة محمد الأول، وجدة، المغرب، 2019.http://www.ump.ma/، ص 61-68.
مواديلي عمر واسباعي عبد القادر والحرادجي عبد الرحمان والحافيظ إدريس (2019_ب)، خطر التعرية المائية بين هشاشة التوازنات البيئية والاستغلال البشري؛ حالة حوض واد العابد. أعمال الندوة الوطنية حول المخاطر الهيدرومناخية والجيومرفولوجية بشمال شرق المغرب: الحوادث والهشاشة والتهيئة. وجدة، 26 دجنبر 2017. منشورات جامعة محمد الأول، وجدة. المغرب، 2019. http://www.ump.ma/، ص 65-76.
مواديلي عمر واسباعي عبد القادر، أهمية نظم المعلومات الجغرافية والاستشعار عن بعد في دراسة تدهور التربة بحوض واد العابد (منطقة تاوريرت) من خلال نموذج المعادلة العامة لانجراف التربة "RUSLE". المجلة المغربية للبحث الجغرافي، أدوات ومناهج في البحث الجغرافي، المغرب، المجلد الثاني، العدد الأول، 2020. ص 27-44.
مواديلي عمر، التعرية المائية والدينامية البيئية في حوضي وادي اتلاغ ووادي العابد (تاوريرت، المغرب الشرقي) - مقاربات جيوماتية. بحث لنيل شهادة الدكتوراه، شعبة الجغرافيا، كلية الآداب والعلوم الإنسانية، جامعة محمد الأول، وجدة. المغرب، 2021، 421ص.
نافع رشيدة ووطفة عبد الرحيم ، التعرية المائية وأثرها في تدهور التربات، تحليل المظاهر ومناهج القياس. مجلة أبحاث، منشورات كلية الآداب والعلوم الإنسانية. المحمدية المغرب، العدد العاشر. 2002.
وحمد لحسن، منطقة عالية الحوض الأعلى لواد أم الربيع: (الأطلس المتوسط الأوسط)، الحركية الطبيعية وإشكالية التنمية المستديمة. بحث لنيل شهادة الدكتوراه في الجغرافيا. كلية الآداب والعلوم الإنسانية. جامعة محمد الخامس – الرباط. المغرب، 2004. 248ص.
المراجع باللغات الأجنبية
ANNABI, Mohamed. Stabilisation de la structure d'un sol limoneux par des apports de composts d'origine urbaine: relation avec les caractéristiques de leur matière organique. 2005. Thèse de doctorat. INAPG (AgroParisTech).
BIROT P. Les processus d'érosion à la surface des continents. Édit. Masson, Paris.1981.
BOIFFIN, Jean, PARY, François, et PEYRÉ, Yves. Systèmes de production, systèmes de culture et risques d'érosion dans le Pays de Caux. 1986.
EL HARRADJI, Abderrahmane. Morphodynamique et environnement au Nord-ouest des Hauts-Plateaux de l'Est Marocain : De la dynamique naturelle des paysages à la désertification. Thèse pour l'obtention du Doctorat d'Etat En Géographie Physique, option Géomorphologie – Université Mohammed Premier- Faculté des Lettres et des Sciences Humaines, Oujda. Maroc. 647p.
GAUCHÉ, Évelyne. La dynamique contrastée du ravinement dans le massif des Beni Saïd (Rif oriental, Maroc): processus, facteurs et évolution. Géomorphologie: relief, processus, environnement, 2005, vol. 11, no 1, p. 45-60.
HJULSTROM, Filip. Studies of the morphological activity of rivers as illustrated by the river fyris, bulletin. Geological Institute Upsalsa, 1935, vol. 25, p. 221-527.
HORTON, Robert E. Erosional development of streams and their drainage basins; hydrophysical approach to quantitative morphology. Geological society of America bulletin, 1945, vol. 56, no 3, p. 275-370.
KOURI, Lakhdar. L'erosion hydrique des sols dans le bassin versant de l'oued mina (algerie). Etude des processus et types fonctionnels de ravins dans la zone des marnes tertiaires. 1993. Thèse de doctorat. Strasbourg 1.
López-Bermúdez, F., Romero-Diaz, A., & Martínez-Fernández, J. The El Ardal field site: Soil and vegetation cover. Mediterranean desertification and land use.1996, 169–188.
Roose, E. La lutte antiérosive conventionnelle en fonction des processus et des facteurs de l'érosion hydrique. Gestion durable des eaux et des sols au Maroc. IRD Éditions, (Institut de Recherche pour le Développement. Marseille),2010. 47-78.
ROOSE, Eric. Introduction à la gestion conservatoire de l'eau, de la biomasse et de la fertilité des sols (GCES). 1994.
SBAI, A. et MOUADILI, O. Risque d'érosion hydrique entre fragilité des équilibres environnementaux et perspectives de durabilité: Cas du bassin d'Oued El Abed (Maroc nord-est). Revue Marocaine des Sciences Agronomiques et Vétérinaires, 2021, vol. 9, no 4, p. 666-674. https://www.agrimaroc.org/index.php/Actes_IAVH2/article/view/1052, 666-674.
SBAI, Abdelkader, MOUADILI, Omar, HLAL, Mohamed, et al. Water Erosion in the Moulouya Watershed and its Impact on Dams' Siltation (Eastern Morocco). Proceedings of the International Association of Hydrological Sciences, 2021, vol. 384, p. 127-131. ,. https://doi.org/10.5194/piahs-384-127-2021, 127–131.
VALENTIN, C. et ROOSE, E. J. Soil and water conservation problems in pineapple plantations of south Ivory Coast. Soil Conservation-Problems and Prospects. ed. Morgan, RPC, John Wiley & Sons, Chichester, 1981, p. 239-246.
VALENTIN, Christian. Organisations pelliculaires superficielles de quelques sols de région subdésertique, Agadez, République du Niger: dynamique de formation et conséquences sur l'économie en eau. 1981.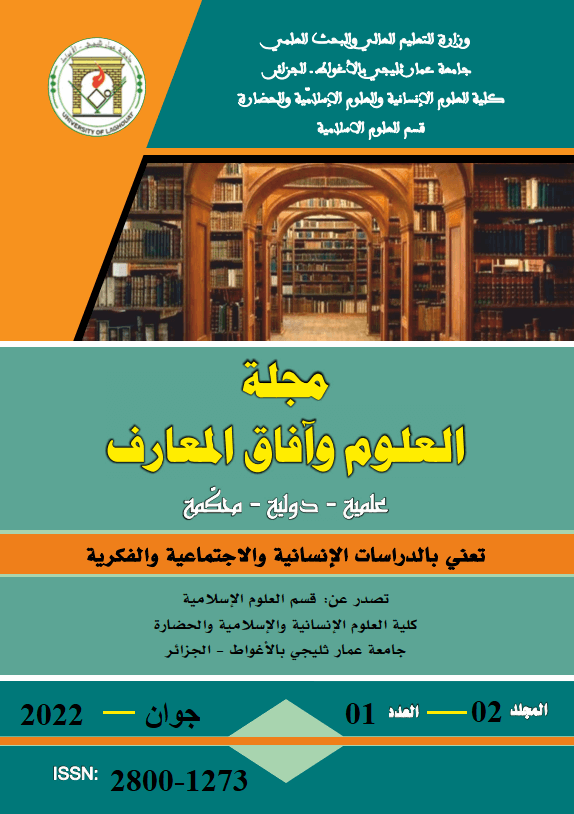 Copyright (c) 2022 Science and Knowledge Horizons Journal
This work is licensed under a Creative Commons Attribution 4.0 International License.
All articles published in our journal are subject to license terms:
Creative Commons Attribution (CC BY NC 4.0) This license allows the reproduction, redistribution and reuse of content in whole or in part for any purpose for free, without any permission from the author (s) or publisher.
All works submitted to the journal for publication in the journal include CC-BY 4.0 license terms. Where available content can be shared, distributed and replicated provided that there is no commercial profit and appropriate credit must be granted to the original source through citations. It is essential that any material used from other sources including figures, tables and images be reviewed for reuse under the terms of the Creative Commons License (CC BY 4.0). Which states:
You are free to share - copy and redistribute materials in any medium or format.
Transfer or construction of materials is carried out under the following conditions:
Attribution You must provide the appropriate credit, provide a link to the license, and indicate whether changes have been made. You can do this in any reasonable way, but not in any way that indicates that the licensor supports you or your use.
Copyright reserved to the journal without restrictions.