Al-Solan or Al-Sawal in Moroccan Al-Melhoun poetry
Keywords:
salty poetry, solan, solan, hierarchy cracking, memory arrangement, miraculous
Abstract
This article talks about the topic of Solan or Al-Sawal in Moroccan Al-Melhoun poetry. It is a set of poetic debates contained in Moroccan Al-Melhoun poetry, which takes place between a poet and his councils or between two or more poets to show ingenuity, scientific capacity and abundance of knowledge.They can also be puzzles that the poet reviews for some his opponents to make them unable to understand and answer, and thereby overcoming them in public. Moreover, this manifests that the poet of Almalhoun can take esotric knowledge from scholars and put it in plain words to the public, breaking the cultural hierarchy and linking the Moroccan cultural groups. Yet, the Question can be used in the Almalhoun poetry to rearrange priorities,mainly cultural, or it can come in a fantastic form.
References
- ابن منظور، جمال الدين، لسان العرب، بيروت، دار صادر، (د.ت).
- اعمار، عبد العزيز، الشعر الشفهي الملحون، ذاكرة مغناة، ضمن:
Sobhi Boustani, Karam Rizk, Joseph Chraim (dir.), Traditions poétiques et narratives arabes, Liban, Kaslik, Univ. Saint-Esprit, 2016.
- التومي سعيدان، ديوان مغذي الأرواح ومسلي الأشباح، الجزائر، مطبعة عمار قرفي، ط .1، (د. ت).
- الجراري، عباس، الزجل في المغرب (القصيدة)، الرباط، مطبعة الأمنية، 1970.
- الجراري، عباس، معجم مصطلحات الملحون الفنية، المغرب، مطبعة فضالة، 1978.
- عبد الناصر، حسن محمد، نظرية التلقي بين ياوس وإيزر، القاهرة، دار النهضة العربية، 2002.
- الفاسي، محمد، معلمة الملحون، ق.1 ج.1، الرباط، مطبوعات أكاديمية المملكة المغربية، 1986.
- الفاسي، محمد، معلمة الملحون، تراجم شعراء الملحون، الرباط، مطبوعات أكاديمية المملكة المغربية، 1992.
- لحمداني، حميد، القراءة وتوليد الدلالة، تغيير عاداتنا في قراءة النص الأدبي، بيروت-لبنان، الدار البيضاء-المغرب، المركز الثقافي العربي،2007.
- ولد أرزين، محمد بن علي، ديوان محمد بن علي ولد أرزين، الرباط، مطبوعات أكاديمية المملكة المغربية، 2009.
- Paul Zumthor, Introduction à la poésie orale, éd. Seuil, Coll. Poétique, Paris, 1983.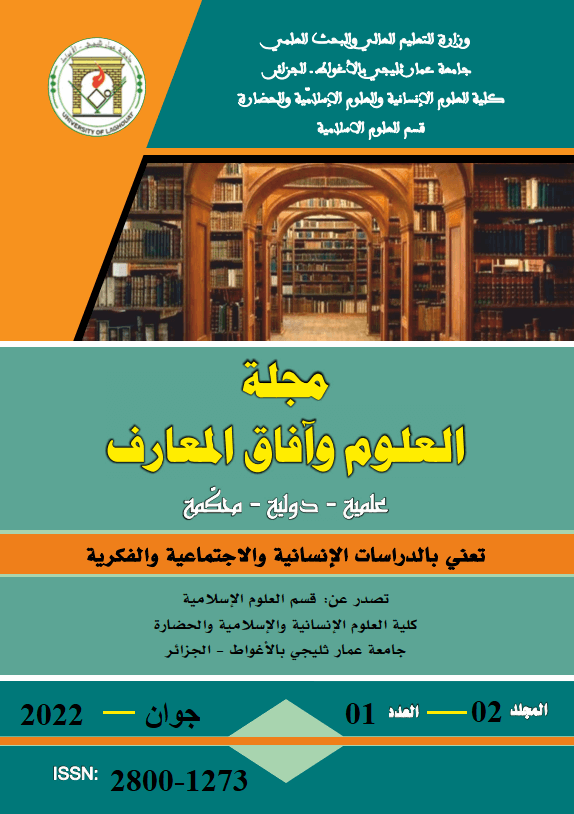 Copyright (c) 2022 Science and Knowledge Horizons Journal
This work is licensed under a Creative Commons Attribution 4.0 International License.
All articles published in our journal are subject to license terms:
Creative Commons Attribution (CC BY NC 4.0) This license allows the reproduction, redistribution and reuse of content in whole or in part for any purpose for free, without any permission from the author (s) or publisher.
All works submitted to the journal for publication in the journal include CC-BY 4.0 license terms. Where available content can be shared, distributed and replicated provided that there is no commercial profit and appropriate credit must be granted to the original source through citations. It is essential that any material used from other sources including figures, tables and images be reviewed for reuse under the terms of the Creative Commons License (CC BY 4.0). Which states:
You are free to share - copy and redistribute materials in any medium or format.
Transfer or construction of materials is carried out under the following conditions:
Attribution You must provide the appropriate credit, provide a link to the license, and indicate whether changes have been made. You can do this in any reasonable way, but not in any way that indicates that the licensor supports you or your use.
Copyright reserved to the journal without restrictions.