Natural heritage is a pillar for the development and diversification of the tourism product in Khenifra province –Morocco
زكريا محرير

اسية الفحل

عبدالمجيد السامي
Keywords:
Ecosystem; sustainable development; biodiversity; ecotourism; Khenifra province; Middle Atlas
Abstract
The Khenifra province constitutes an area rich in resources and natural settings (lakes, sources, caves ...) that make it a strategic reserve that can be invested in the tourism field; Especially in what has become known as ecotourism, after the loud voices calling for the need to preserve the environment and create a clean and green tourism activity that takes into account the local peculiarities, and reconciles between protecting the environment and preserving biological and cultural diversity, but due to many factors, including the absence of a culture of ecotourism and the weakness of equipment, tourism in the region did not rise To the required level.
References
1- أسية لفحل، (2011)، "السياحة الإيكولوجية بإقليم خنيفرة الواقع والآفاق"، بحث لنيل دبلوم الماستر، في الجغرافيا، كلية الآداب والعلوم الإنسانية _ المحمدية.
2- أقوضاض محمد (2005): السياحة وإعداد المدن الجبلية، أعمال الدورة الأولى لجامعة أزو المفتوحة، تنمية المدن الجبلية، 25_26 نونبر 2005، ص: 62، كلية الآداب والعلوم الإنسانية _ مراكش.
3- أقوضاض محمد (2003): السياسة السياحية بالمغرب ثوابتها ومتغيراتها وانعكاساتها الإقتصادية والمجالية، الجزء الأول، ص: 302.
4- العوينة عبد الله (1989)، "أكلمام أزكزا"، معلمة المغرب، الجزء 2، إنتاج الجمعية المغربية للتأليف والنشر، مطابع سلا، ص:624-625.
5- تيسي محمد (2011): إقليم شفشاون: مميزات السياحة البيئية وآفاق التنمية المحلية، بحث لنيل شهادة الماستر في الجغرافيا، كلية الآداب والعلوم الإنسانية – المحمدية، ص: 21.
6- مهدان أمحمد (2005): مساهمة وزارة الفلاحة والتنمية القروية والصيد البحري في تنمية المناطق الجبلية بالمغرب، أعمال الدورة الأولى لجامعة أزو المفتوحة، تنمية المدن الجبلية، 25_26 نونبر 2005، ص:67، مديرية الإعداد العقاري.
7- ورد عبد المالك (2005): التنمية الحضرية، التشغيل والحكم الصالح، أعمال الدورة الأولى لجامعة أزو المفتوحة، تنمية المدن الجبلية، 25_26 نونبر 2005، ص: 47، كلية الآداب والعلوم الإنسانية-مكناس.
8- منوغرافية المندوبية السامية للمياه ومحاربة التصحر بإقليم خنيفرة 2014.
J.Martin, Le Moyen Atlas Central, étude géomorphologique-notes et Mémoires du service géologique N° 258 bis, 1981.
Agence du bassin hydraulique de l'Oum er Rabia : (2010), p:13 مرجع سابق
9- L.CHILASSE, M.DAKKI, et M .ABBASSI : Les zone humides Méditerranée : valeur et Fonctions écologiques Des zone humides du Moyen atlas (Maroc).SEHUMED. Valencia España 2001, P : 14
10- Ministère du tourisme : rapport pour le plan d'orientation pour le développement Economique et Social, (2000-2004) Rabat, 1999, p :32.
11- Agence du bassin hydraulique de l'Oum ER Rbia, fiches d'étude Etude de Sauvegarde et de valorisation des lacs naturels situés dans la province de khenifra ( aguelmane azegeza et tiguelmamine), 2010.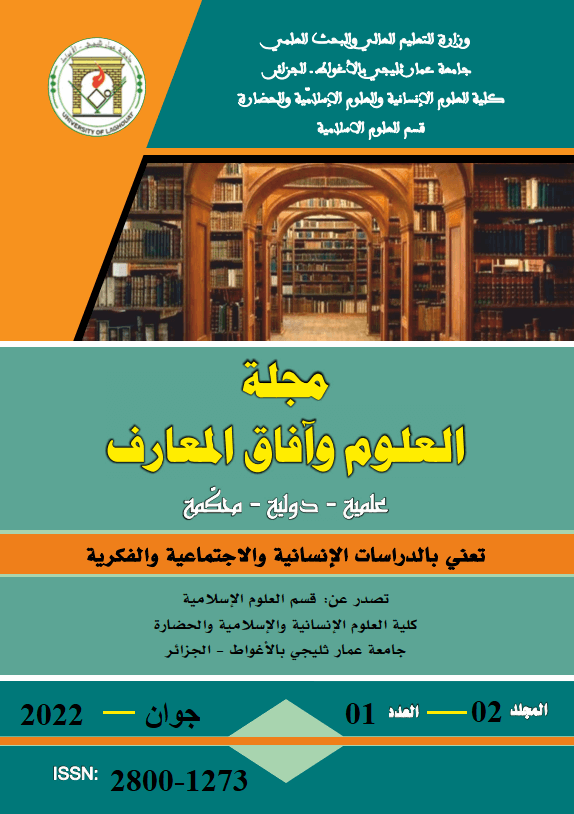 Copyright (c) 2022 Science and Knowledge Horizons Journal
This work is licensed under a Creative Commons Attribution 4.0 International License.
All articles published in our journal are subject to license terms:
Creative Commons Attribution (CC BY NC 4.0) This license allows the reproduction, redistribution and reuse of content in whole or in part for any purpose for free, without any permission from the author (s) or publisher.
All works submitted to the journal for publication in the journal include CC-BY 4.0 license terms. Where available content can be shared, distributed and replicated provided that there is no commercial profit and appropriate credit must be granted to the original source through citations. It is essential that any material used from other sources including figures, tables and images be reviewed for reuse under the terms of the Creative Commons License (CC BY 4.0). Which states:
You are free to share - copy and redistribute materials in any medium or format.
Transfer or construction of materials is carried out under the following conditions:
Attribution You must provide the appropriate credit, provide a link to the license, and indicate whether changes have been made. You can do this in any reasonable way, but not in any way that indicates that the licensor supports you or your use.
Copyright reserved to the journal without restrictions.