The social effects of using the Internet on students'behaviour: A study on a sample of students from the DepartmentofSociology, Faculty of Arts and Sciences, Al-Marj, University of Benghazi, Libya
عبدالمجيد احمد عبدالرحمان
Keywords:
Internet use; Al-Marj university students; academic achievement; social relationships; acquiring behavioral patterns.
Abstract
This study aimed to determine the effects of Internet use from students of the Faculty of Arts and Sciences in Al-Marj, Libya, who use the Internet. Accordingly, the study sought to answer questions related to the effects of Internet use on students' academic performance, acquiring behavior patterns and building social relationships. The study used the descriptive approach to describe the phenomenon and the purposes of using the Internet and its repercussions, and it was applied to an intentional sample of 56 individuals out of the total sample with a percentage of 9.1%. The study reached a number of results, including that the students use the Internet for a period of more than three hours a day, and that the purposes of accessing the Internet are to obtain information, knowledge and entertainment, The tight social control system, movement restriction, and the lack of places of entertainment affected the behaviour of these students by spending long times using the Internet, and thus formed a basic pattern for their lifestyles and ways of movement, and that most of them use it at night, which reflects their interest in studying, and also highlighted the weakness of the use of the Internet for social communication and building relationship.
References
1. نايف سالم ولمياء سليمان الفنيخ (2014 يناير)، استخدام الانترنت وعلاقتع بالتحصيل الأكاديمي والتكيف الاجتماعيوالاكتئاب ومهارات الاتصال لدى طلبة جامعة القصيم، في مجلة الجامعة الاسلامية للدراسات التربوية والنفسية، المجلد 20 (1) : 283 – 331.
2. بيل جيتس (1998 )،المعلوماتية بعد الانترنت، طريق المستقبل، ترجمة عبد السلام رضوان، المجلس الوطني للثقافة والفنون والآداب، الكويت:
3. نبيل علي (2001 )، الثقافة العربية وعصر المعلومات، رية المستقبل، الخطاب الثقافي العربي، المجلس القومي للثقافة والفنون والآداب، الكويت.
4. تقرير: 3 مليارات مستخدم للإنترنت حول العالم: 2015
. أسامة أبو حجاج ( 1998 )، دليلك الشخصي إلى عالم الانترنت، دار نهضة مصر، مصر
نايف سالم ولمياء سليمان الفنيخ، مرجع سابق
Aamo, lordian and Egena Ode ( Jan. 2014 ),The Impact of Soial Network Usage on University Students Academic Performance: A case study of Benue State . University of Makurdi, Nigeria, in International Journal on Computer Science and Engineering, vol, 6, No, 07, pp. 275 – 279
Yasar Guneri et. al. ( 2010 ), The Use of Internet Resources by University Students during their Project Elicitation, a case study, Turkish Online Journal of Educational Technology Management Systems, vol. 9 (2): 234 – 244.

Jushna Muhra Robert Morris et. al. ( 2014 ), How a Gad Student Trying to Build the First Botnet, Brought the Internet to its Knees. The Washington Post, 1 Nov, 2013.

سميرة أحمد قنديل وآخرون (2013) أسلوب استخدام الهاتف المحمول وعلاقتها بمشكلات طلاب الجامعة ، في مجلة
J.agric Econom.and social sci, Mansoura Vniv., Vol 4 (6) :1281-1306
Landa Andrew Chris,Aug.2015 Influence of Social Media on Study Habits of undergraduabe Stuadents in Kenyan Universites, in International Journal of Noval Research in Humanity and Social Sciences, vol.2 (issue 4) , pp 42-45
أحمد أحمد بكر قنيطة (2011م- 1423ه) ، الآثار السلبية لاستخدام الانترنت من وجهة نظر طلبة الجامعة الاسلامية بغزة، ودور التربية الاسلامية في علاجها، رسالة ماجستير، غزة، فلسطين,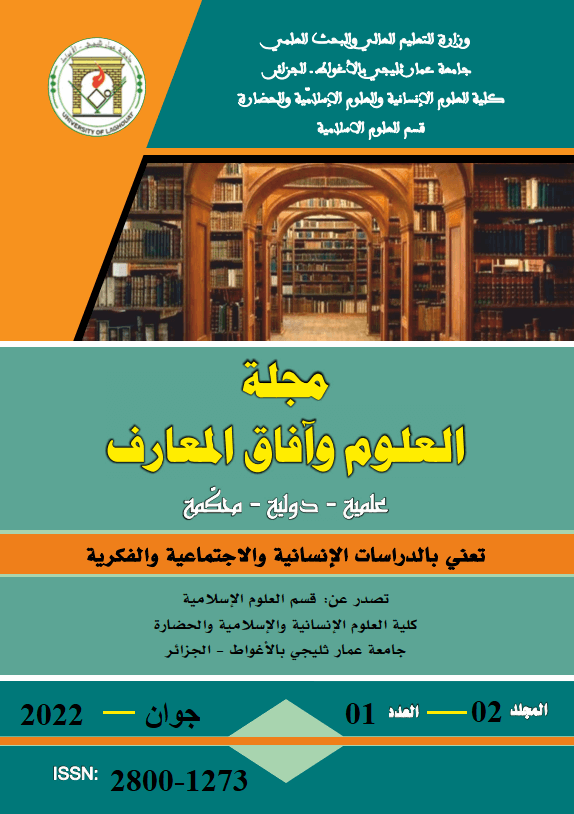 Copyright (c) 2022 Science and Knowledge Horizons Journal
This work is licensed under a Creative Commons Attribution 4.0 International License.
All articles published in our journal are subject to license terms:
Creative Commons Attribution (CC BY NC 4.0) This license allows the reproduction, redistribution and reuse of content in whole or in part for any purpose for free, without any permission from the author (s) or publisher.
All works submitted to the journal for publication in the journal include CC-BY 4.0 license terms. Where available content can be shared, distributed and replicated provided that there is no commercial profit and appropriate credit must be granted to the original source through citations. It is essential that any material used from other sources including figures, tables and images be reviewed for reuse under the terms of the Creative Commons License (CC BY 4.0). Which states:
You are free to share - copy and redistribute materials in any medium or format.
Transfer or construction of materials is carried out under the following conditions:
Attribution You must provide the appropriate credit, provide a link to the license, and indicate whether changes have been made. You can do this in any reasonable way, but not in any way that indicates that the licensor supports you or your use.
Copyright reserved to the journal without restrictions.