Factors affecting the conviction of citizens of rural communities of the existence of the Corona virus An applied study on the village of El Kamleen West, Gezira State - Sudan
عباس مبارك محمد خلف الله الكنزي
Keywords:
: citizens, rural community. Corona virus
Abstract
The aim of this descriptive research is to identify the most important factors affecting the persuading the citizens of rural communities of the existence of the Corona virus, which spread at the end of 2019 AD in China and the expansion of its spread geographically since its appearance in most countries of the world. Using the questionnaire, and based on the findings of the research, a number of recommendations were presented that may contribute to persuading the citizens of rural communities of the existence and seriousness of the disease
References
ابن منظور، لسان العرب ، دار إحياء التراث العربي ، بيروت، 1999م، ص 55
أحمد زكي بدوي ،معجم مصطلحات العلوم الاجتماعية ،مكتبة لبنان، بيروت،1982م،ص124
منظمة الصحة العالمية ، فبراير 2020م ص 69

منظمة الصحة العالمية ، فبراير 2020م ص 69
الهيئة العامة للغذاء والدواء. تم الاسترجاع بتاريخ (٢١، فبراير، ٢٠٢١). على الرابط:
https://www.sfda.gov.sa/sites/default/files/inlinefiles/EpidemicPandemic.pdf
الشبلي والمسلمية ، بعض تحديات التعليم الالكتروني في ظل كوفيد 19 في مؤسسات التعليم العالي – المجلة الالكترونية الشاملة متعددة التخصصات ، العدد الثلاثون 2020م ص 33

لبيض ليندة ، لبصير فطيمة ، الفيسبوك والتوعية بالخدمات الصحية اتجاه جائحة كورونا ، مجلة الوقاية والأرغنوميا ،2020م المجلد (8) العدد 55
آل سعد، خالد (٢٠٢٠). مدى تأثير بعض الجوانب الإجراءات الاحترازية لمواجهة أزمة كورونا على الأمن النفسي والاجتماعي للأفراد من وجهة نظر الممارسين الصحيين بمدينة الملك عبد العزيز الطبية. قسم الدراسات المدنية. كلية الملك خالد العسكرية. وزارة الحرس الوطني: السعودية.


بغدأي، خيره ، إشكالية الرابط الاجتماعي في ظل وباء كورونا، تفكك أم إعادة تشكل؟. مجلة دراسات في العلوم الإنسانية والاجتماعية. ، 2020م (٥).(٣).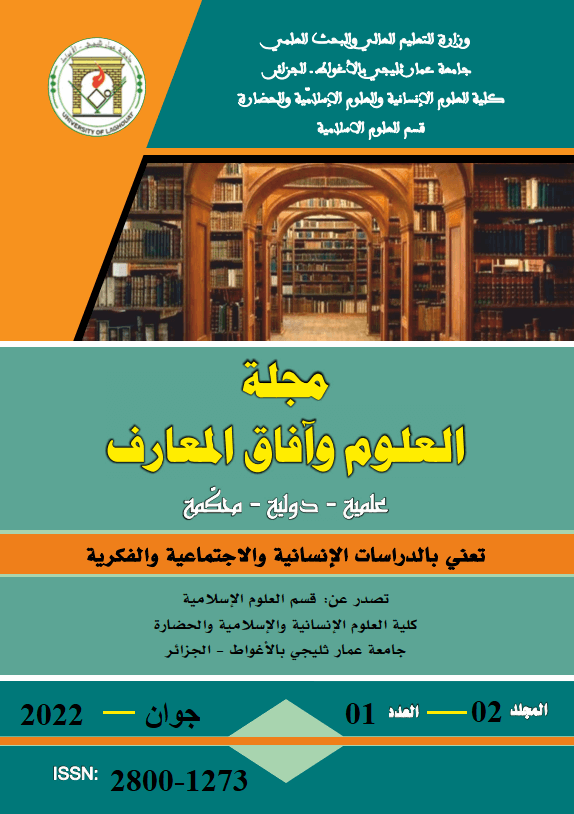 Copyright (c) 2022 Science and Knowledge Horizons Journal
This work is licensed under a Creative Commons Attribution 4.0 International License.
All articles published in our journal are subject to license terms:
Creative Commons Attribution (CC BY NC 4.0) This license allows the reproduction, redistribution and reuse of content in whole or in part for any purpose for free, without any permission from the author (s) or publisher.
All works submitted to the journal for publication in the journal include CC-BY 4.0 license terms. Where available content can be shared, distributed and replicated provided that there is no commercial profit and appropriate credit must be granted to the original source through citations. It is essential that any material used from other sources including figures, tables and images be reviewed for reuse under the terms of the Creative Commons License (CC BY 4.0). Which states:
You are free to share - copy and redistribute materials in any medium or format.
Transfer or construction of materials is carried out under the following conditions:
Attribution You must provide the appropriate credit, provide a link to the license, and indicate whether changes have been made. You can do this in any reasonable way, but not in any way that indicates that the licensor supports you or your use.
Copyright reserved to the journal without restrictions.