Diagnosing the modern situation of public administration in Morocco
Keywords:
public employment; public administration; Human resources; situational diagnosis
Abstract
Given the importance that the administration occupies within the state apparatus, some considered it a "state within a state", while other researchers argued that the administration is "a group of administrative institutions placed at the disposal of the government and separated from it, with the interplay between them, that contribute to the legislative and governmental function, and exercise an effective activity." It is not directed towards achieving development, reform, modernization and various activities within a specific political context.
Reflecting on this definition, we can say that the administration is the body or structure, where the decisions issued by the government have been implemented, knowing that it is separate from it. It is also evident from the same definition that the administration contributes to the legislative and executive function, aiming to achieve development and reform. Abdullah Shanfar believes that the administration Assignment and responsibility for managing specific objectives in the public interest.
References
• حميد أبولاس "تدبير الموارد البشرية: نموذج لإدارة الجماعة " مطيعة دار القلم، الضيعة الأولى 2005
• الموقع الاليكتروني لوزارة تحديت القطاعات العامة:WWW.MMSP.GOV.MA
• وزارة تحديث القطاعات العمومية قطاع تدبير الموارد البشرية، الموقع الاليكتروني
• مرابط رشيد- المدير العام للمعهد العالي للتجارة وتدبير المقاولات "الإدارة كنظام للتدبير" مقال عن منشورات مجموعة البحث في المجال الترابي.
• رضوان بوجمعة: "الوظيفة العمومية المغربية على درب التحديث " مطبعة النجاح الجدية الدار البيضاء 2003
• رضوان بوجمعة: "الوظيفة العمومية المغربية على درب التحديث " مطبعة النجاح الجدية الدار البيضاء 2003
• الفصل من الظهير الشريف رقم 157.96.1 الصادر 7 أكتوبر 1996 . تنفيذ نص المراجع."راجع بوعلام السنوسي" تشريعات الوظيفة العمومية
• محمد بنحيى "قانون الوظيفة العمومية 6 "المجلة المغربية للإدارة المحلية والتنمية العدد 59، الطبعة الأولى 2002
• وزارة الوظيفة العمومية والإصلاح الإداري "الإدارة المغربية وتحديات 2010 ص 14.
• محمد باهي: "تدبير الموارد البشرية بالإدارة العمومية" مطبعة النجاح الجديدة الطبعة الأولى الدار البيضاء 2002
• عبد الفتاح مهتدي "تنمية الإدارة المغربية بين الإكراهات البنيوية ومعطيات المحيط " رسالة دبلوك العليا المعمقة في القانون العام السنة الجامعية 2004/2005 عين الشق الدار البيضاء
• أحمد البخاري "القانون الإداري العملي" مطبعة وليلي: الطبعة الأولى 2001
• علي سد جاري: "الدولة والإدارة بين التقليد والتحديث ،طبعة 1994
• عبد العزيز الرماني: "الإصلاح الإداري بالمغرب" أربعون سنة من الوعود والمشاريع" المجلة المغربية للإدارة المحلية والتنمية
• ميثاق حسن التدبير
• المرسوم الملكي رقم 97.401 بمثابة نظام عام للمباريات والامتحانات الخاصة لولوج أسلاك ودرجات الإدارة المغربية
• المناظرة الوطنية حول الإصلاح الإداري تحت شعار الإدراة المغربية وتحديات 2010 في 7 و8 ماي
2002
• الموقع الاليكتروني لوزارة نحديث القطاعات العامةwww.mmsp.gov.ma
• لموقع الاليكتروني لوزارة القطاعات العامة.
• بشرى الوردي: "تقييم الأداء في الوظيفة العمومية المغربية" رسالة لنيل دبلوم الدراسات العليا المعمقة في القانون العام، أبريل 2008
• المجلة المغربية للإدارة المحلية والتنمية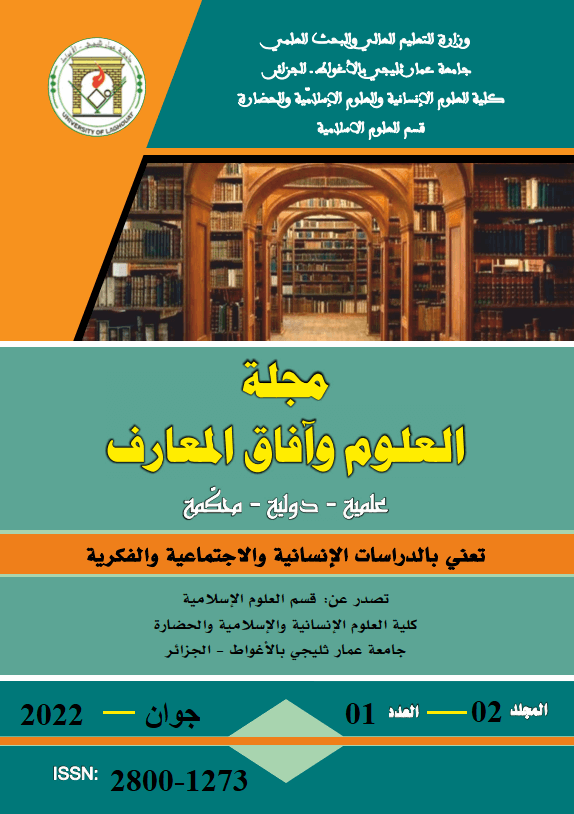 Copyright (c) 2022 Science and Knowledge Horizons Journal
This work is licensed under a Creative Commons Attribution 4.0 International License.
All articles published in our journal are subject to license terms:
Creative Commons Attribution (CC BY NC 4.0) This license allows the reproduction, redistribution and reuse of content in whole or in part for any purpose for free, without any permission from the author (s) or publisher.
All works submitted to the journal for publication in the journal include CC-BY 4.0 license terms. Where available content can be shared, distributed and replicated provided that there is no commercial profit and appropriate credit must be granted to the original source through citations. It is essential that any material used from other sources including figures, tables and images be reviewed for reuse under the terms of the Creative Commons License (CC BY 4.0). Which states:
You are free to share - copy and redistribute materials in any medium or format.
Transfer or construction of materials is carried out under the following conditions:
Attribution You must provide the appropriate credit, provide a link to the license, and indicate whether changes have been made. You can do this in any reasonable way, but not in any way that indicates that the licensor supports you or your use.
Copyright reserved to the journal without restrictions.