The culture of assessment and how to practice it for the teacher: a field study
Keywords:
orthodontic culture; the teacher; evaluation practice; the teaching-learning process
Abstract
This study  aimed to monitor the teacher's orthodontic culture as a theoretical reference for his  practice. The study was carried out on a sample of 60 teachers and primary education schools in the kenitra regional directorates of the Rabat-Sale and kenitra regions. To achieve its goals of study and answering questions, we have relied on a range of tools, the most important of which is form and content analysis. The results of the study showed that teachers had poor theoretical competence in evaluation and difficulties in their corrective practices. In view of the results, we recommend that basic and continuous training in the field of assessment be strengthened and that teachers be made aware of its importance in improving and developing the teaching and learning process.
References
البدور أحمد، 2016، واقع ممارسات التقويم الصفية للمعلمين من وجهة نظر قياداتهم التربوية بالمملكة العربية السعودية. مجلة العلوم التربوية والنفسية ، 9 (4)، 919، .960
-تيغزة إمحمد، 2015))، الممارسات التقويمية لمعلمي العلوم بمرحلة التعليم المتوسط في ضوء تصنيف الأداء حسب الاختبارات الدولية. مجلة الدراسات التربوية والنفسية، 9 (1).
-عبد الحق الصغير، محمد لطفي، أكريكر شفيق،2020، الثقافة التقويمية والممارسة الصفية للتقويم، أية علاقة، دراسة استكشافية، المجلة المغربية لتقييم والبحث التربوي، المركز المغربي للتقييم والبحث التربوي ( (CEMERD، المجلد 3 ،العدد 3 ،151 - 161 ، ص 153
-مراد معرف، 2016، الممارسات التقويمية في ظل منهجية المقاربة بالكفاءات ومعوقاتها، مجلة الباحث في العلوم الإنسانية والاجتماعية، جامعة ورقلة (الجزائر)، المجلد 8 ، العدد 26، 01-11، ص 03 .
-وزارة التربية الوطنية،1995، دليل التقويم التربوي، ، ص: 6.
-وزارة التربية الوطنية، 2014، الدليل البيداغوجي للتعليم الابتدائي، ص ص55 –59
-وزارة التربية الوطنية، 2006، القرار الوزاري رقم 2383.06 في شأن تنظيم امتحانات نيل شهادة الدروس الابتدائية.
-وزارة التربية الوطنية، 2010، المذكرة 175 في شأن تأطير وتتبع إجراء فروض المراقبة المستمرة بسلك التعليم المدرسي.
-وزارة التربية الوطنية، 2010، المذكرة الوزارية رقم 63 في شأن الأطر المرجعية لمواد الامتحان الإقليمي لنيل شهادة الدروس الابتدائية.
-وزارة التربية الوطنية، 2014، المذكرة الوزارية رقم 063/14 في شأن التقويم والإشهاد بالتعليم الابتدائي الأصيل.


-De Ketele,J-M.,1985, Docimologie : introduction aux concepts et aux pratiques. Editeur/Publisher Louvain-la-Neuve, Cabay.
-L'instance nationale d'évaluation auprès du conseil supérieur de l'éducation, de la formation et de la recherche scientifique, 2022, Rapport national PISA 2018, Rapport thématique avec le soutien de l'agence MCA-Morocco et l'OCD.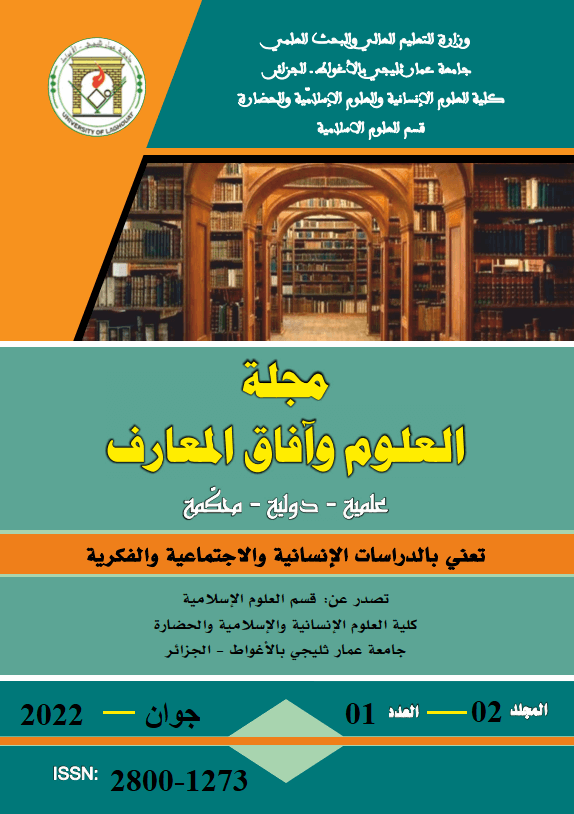 Copyright (c) 2022 Science and Knowledge Horizons Journal
This work is licensed under a Creative Commons Attribution 4.0 International License.
All articles published in our journal are subject to license terms:
Creative Commons Attribution (CC BY NC 4.0) This license allows the reproduction, redistribution and reuse of content in whole or in part for any purpose for free, without any permission from the author (s) or publisher.
All works submitted to the journal for publication in the journal include CC-BY 4.0 license terms. Where available content can be shared, distributed and replicated provided that there is no commercial profit and appropriate credit must be granted to the original source through citations. It is essential that any material used from other sources including figures, tables and images be reviewed for reuse under the terms of the Creative Commons License (CC BY 4.0). Which states:
You are free to share - copy and redistribute materials in any medium or format.
Transfer or construction of materials is carried out under the following conditions:
Attribution You must provide the appropriate credit, provide a link to the license, and indicate whether changes have been made. You can do this in any reasonable way, but not in any way that indicates that the licensor supports you or your use.
Copyright reserved to the journal without restrictions.