Archaeological study of artistic models of spoons dating back to the
Keywords:
Spoons ; Museum collection ; ottoman era ; Islamic arts
Abstract
The Ottoman period witnessed a great prosperity in Islamic arts, as these artifacts developed and became employed in various artifacts, including household utensils, for this we wanted to shed light on a model of these masterpieces namely spoons, where this research aims to study a museum collection, which is spoons dating back To the Ottoman period, through an archaeological study published for the first time on the true function and use of these spoons.
References
-Le Coran
Rabih Hamed Khalifa, Islamic Arts in the Ottoman Era, l'éditeur, Zahraa Al Sharq Library, première édition, Le Caire, 2001.
Sonia Muhammad Saeed Elena, La division des janissaires, son origine et son rôle dans l'Empire ottoman à travers les sources, Le Caire, ITRAC, 2006.
Abdel Aziz Marzouk, Arts décoratifs islamiques à l'époque ottomane, Organisation générale égyptienne du livre, Le Caire, 1974.
- Sources et références en français :
Allan J et Raby J, Le Metal, in L'art décoratif ottoman, De Noel, Paris, 1982.
- Alfonse Royer, Les Janissaires, Tome I, Palais Royale-88 au Salon de Littéraire, Paris, 1844.
- Arseven C.E, les arts décoratifs turcs, milli egitim basimevi, Istanbul. DAKOTA DU SUD.
-Guiauchain G, Alger, Imprimerie Alger, 1909.
- Venture de Paradis, Algérie à la 18e édition, 2e édition : Bouslama, Tunis, 1980.
- Thèses universitaires :
Houria Shraid, L'évolution de la cuisine marocaine et de son équipement de l'ère almoravide à la fin de l'ère ottomane (étude historique et archéologique), thèse de doctorat, Université d'Alger 2, 2010-2011.
Tayyan Sharifa, Arts appliqués algériens à l'époque ottomane, une thèse pour l'obtention d'un doctorat en archéologie islamique, première partie, 2007-2008.
- Ali Ben Bella, Artefacts en bois dans les palais de la Kasbah d'Alger à la fin de la période ottomane, Une étude archéologique et artistique, Université d'Alger 2, Institut des Antiquités, Algérie, 2001-2002 AD
- Articles :
- Muhammad bin Abdullah Al-Zalfa, "La secte dans les livres des voyageurs européens", journal Al-Jazeera, première édition, numéro 10162, 2000 après JC.
- Dictionnaires :
- Hassan Raouf Laith, Le dictionnaire complet des mots et termes irakiens, Dubaï, 2013
- Muhammad Rizk Assem, Dictionnaire des termes de l'architecture et des arts islamiques, Librairie Medioli, 2000.
Masoud Gibran, pionnier des étudiants, House of Knowledge for Millions, Beyrouth, Liban, sans date.
-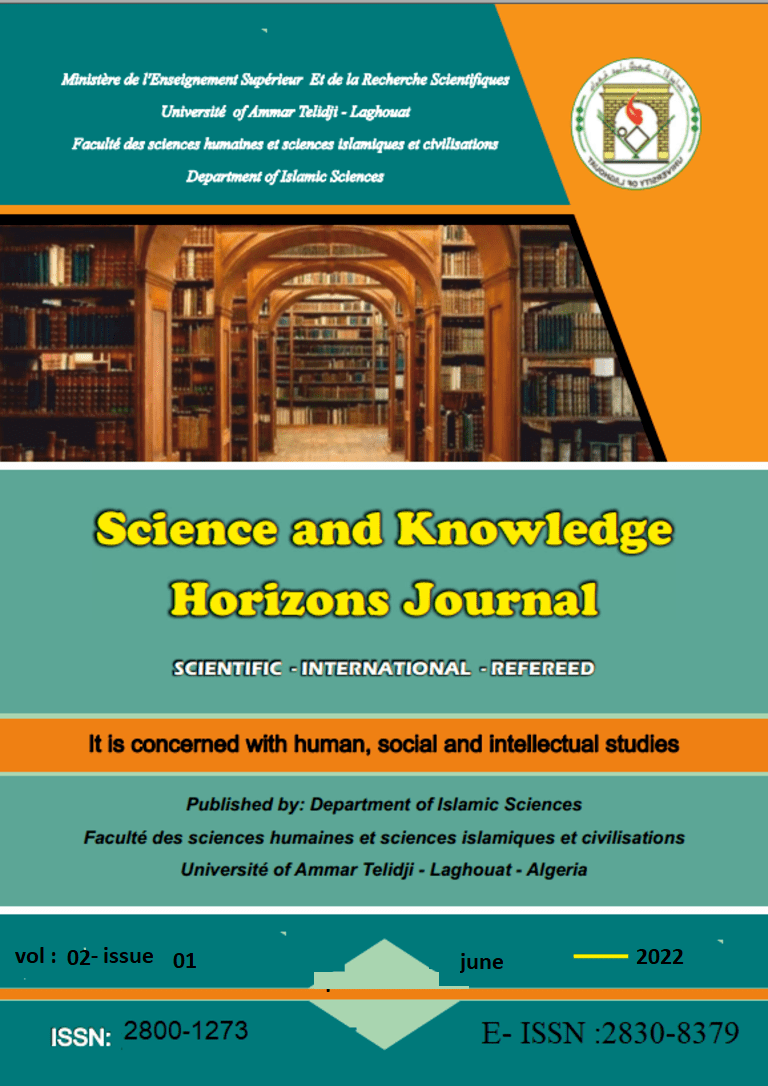 How to Cite
ben laalam, warda. (2022). Archaeological study of artistic models of spoons dating back to the . Journal of Science and Knowledge Horizons, 2(01), 441-460. https://doi.org/10.34118/jskp.v2i01.2130

This work is licensed under a Creative Commons Attribution-NonCommercial 4.0 International License.