The Character of the Prophet Muhammad (PBUH) in the Eyes of Fair Orientalists -Karen Armstrong as a model-
Keywords:
Muhammad (PBUH) ;Orientalism ;Biography of the Prophet ;Karen Armstrong.
Abstract
Islam is a perfect universal religion that dealt with the creation of  man as central and took into consideration the purpose of  his existance in this life. It is both a system and a jurisprudence that stressed all the causes that lead to the goodness and welfare of humanity. Only a few people do not allow themselves to disfigure reality in that they deal with it in a fair academic and scientific manner without prejudice relative to creed, politics or race. One of those people is the distinguished british writer Karen Armstrong who was fair towards Mohammed (P.B.U.H) departing from the recognition of his prophethood to considering him one of he rare personalities who could influence the course of history
References
1. إدوارد سعيد، الاستشراق، المعرفة السلطة الإنشاء، ترجمة كمال أبو ديب، مؤسسة الأبحاث العربية، بيروت، ط2، 1984م.
2. حسين الهروي، المستشرقون والإسلام، مطبعة المنار، القاهرة، دط، 1936م.
3. شوقي أبو خليل، الإسقاط في مناهج المستشرقين، دار الفكر، دمشق، ط2، 1419هـ/1991م.
4. علي إبراهيم النملة، الاستشراق والدراسات الإسلامية، مكتبة التوبة، الرياض، ط1، 1418هـ/1998م.
5. كارن أرمسترونج، الإسلام في مرآة الغرب، ترجمة محمد الجورا، دار الحصاد، دمشق، سوريا، ط2، 2002م.
6. كارن أرمسترونج، الحرب المقدسة: الحروب الصليبية وتأثيراتها على عالمنا اليوم، ترجمة سامي الكعكي، دار الكتاب العربي، بيروت، دط، 2004م.
7. كارن أرمسترونج، القدس: مدينة واحدة، ثلاث عقائد، ترجمة د.فاطمة نصر ود.محمد عناني، دار سطور، القاهرة، دط، 1998م.
8. كارن أرمسترونج، تاريخ الإله: من إبراهيم إلى وقتنا؛ 4000 سنة من المسعى في اليهودية، المسيحية والإسلام، ترجمة محمد الجورا، دار الحصاد، دمشق، سوريا، دط، 1996م.
9. كارن أرمسترونج، محمد () نبي لزماننا، ترجمة فاتن الزلباني، دار الشروق الدولية، القاهرة، دط، 2008م .
10. محمد الصالح صديق، محمد  في نظر المفكرين الغربيين، ديوان المطبوعات الجامعية، الجزائر، دط، دت.
11. محمد بن إسحاق بن يسار المطلبي المدني، السيرة النبوية، تحقيق: أحمد فريد المدني المزيدي، دار الكتب العلمية، بيروت، ط1، 1424/2004م.
12. محمد بن إسماعيل البخاري الجعفي، الجامع المسند الصحيح المختصر (صحيح البخاري)، تحقيق: محمد زهير بن ناصر الناصر، دار طوق النجاة، دم ن، ط1، 1422هـ.
13. محمد عابد الجابري، مدخل إلى القرآن الكريم، الجزء الأول: في التعريف بالقرآن، مركز دراسات الوحدة العربية، بيروت، ط1، 2006م.
14. محمد عزت طهطاوي، التبشير والاستشراق أحقاد وحملات، مطبعة الأميرية، القاهرة، دط، 1977م.

ثانياً: المراجع باللغة الأجنبية:
1. Karen Armstrong, Muhammad :A Western Attempt To Understand Islam, Harper Collins Publishers, 1992, New York, USA.
2. Karen Armstrong, A history Of God: From Abraham To The Present, The 4000-Year Quest Of Judaism, Christianity And Islam, Harper Collins Publishers, 1993, New York, USA.
3. Karen Armstrong, Holy War: The Cruasades And Their Impacts On Todays World, Harper Collins Publishers, 1988, New York, USA.
4. Karen Armstrong, Islam, A short History, Tomson Gale, 2nd ed, 2005, New York ,USA.
5. Karen Armstrong, Jerusalem: One city, Three faiths, Alfred A.Knopf, 1996 , New York , USA.
6. Karen Armstrong, Muhammad Prophet for Our Time, Harper Perennial, 2007, London.
7. Karen Armstrong, The World Biginning, St Martin's Press, 1st pub, 1983, New York, USA.
8. Karen Armstrong,Through the Narrow Gate, St Martin's Press, 1st pub, 1981, New York, USA.
9. W. Montgomery Watt, Muhammad, Prophet And Statesman, 1961, Oxford.
10. http://en.wikipedia.org/wiki/karen_Armestrong.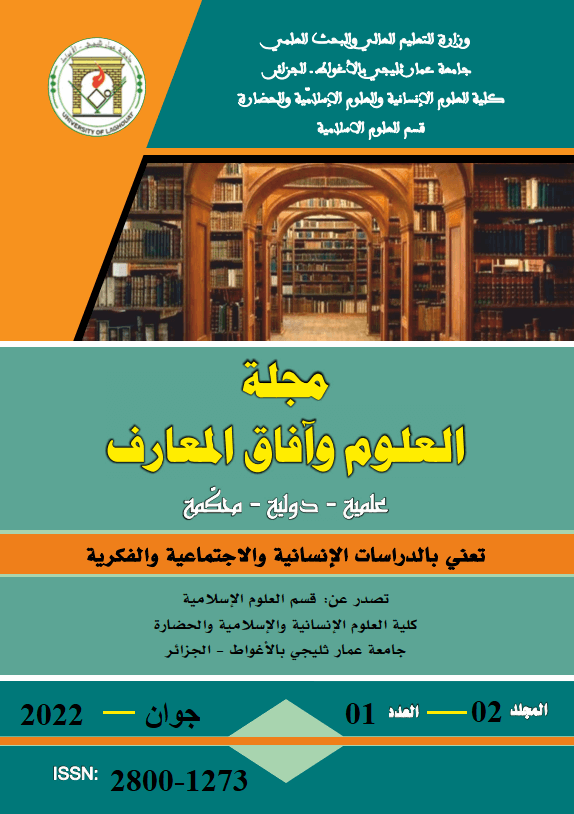 Copyright (c) 2022 Science and Knowledge Horizons Journal
This work is licensed under a Creative Commons Attribution 4.0 International License.
All articles published in our journal are subject to license terms:
Creative Commons Attribution (CC BY NC 4.0) This license allows the reproduction, redistribution and reuse of content in whole or in part for any purpose for free, without any permission from the author (s) or publisher.
All works submitted to the journal for publication in the journal include CC-BY 4.0 license terms. Where available content can be shared, distributed and replicated provided that there is no commercial profit and appropriate credit must be granted to the original source through citations. It is essential that any material used from other sources including figures, tables and images be reviewed for reuse under the terms of the Creative Commons License (CC BY 4.0). Which states:
You are free to share - copy and redistribute materials in any medium or format.
Transfer or construction of materials is carried out under the following conditions:
Attribution You must provide the appropriate credit, provide a link to the license, and indicate whether changes have been made. You can do this in any reasonable way, but not in any way that indicates that the licensor supports you or your use.
Copyright reserved to the journal without restrictions.