Pilgrims and persuasion in ideological discourse
Keywords:
Discours ; Idéologie ; Linguistiques
Abstract
We conclude that the relationship between discourse and ideology is one of interrelation and interdependence, since ideological tendencies can only be embodied by linguistic means, that is, through discourse, since it does not there is no discourse without ideology, and there is no ideology without discourse, and it that the ideological discourse includes many arguments according to which it can obtain the influence of the other and persuade him, as well as a set of linguistic errors as a means of delusional persuasion, which is based on the attraction of the recipient's sympathy, and therefore the illusion of the feasibility of an ideological proposition on others.
Speech is therefore a vast field for the practice of pilgrims and persuasion, since speech is nothing but a means in the hands of pilgrims, and therefore it is possible to pass through it a set of rational or illusory arguments in order to persuade the other, and in general it can be said that any speech is not without a premeditated intention to persuade the other.
References
• أعموري سعيد الأيديولوجيا/ الخطاب/ النص، نحو مقاربة مفاهيمية، جامعة عبد الرحمان ميرة بجابة، الجزائر، العدد18،2013.
• ربيعة العربي، بلاغة الحجاج وتقنيات التأثير،الحوار التمدن،العدد 2013،4046
• عبد الإله بوحمالة، آليات اشتغال الخطاب السياسي الحزبي في المغرب، رسالة ماجستير، علوم الإعلام والاتصال، المغرب، 2001
• عبد الله العروي، مفهوم الإيديولوجيا، المركز الثقافي العربي، منتديات الوحدة العربية،الدار البيضاء،ط5، 1993
• محمد عابد الجابري، الخطاب العربي المعاصر، دراسة تحليلية نقدية، ط بدون.
• مهى محمود إبراهيم العتوم، تحليل الخطاب في النفد العربي الحديث، دراسة مقارنة في النظرية والمنهج،كلية الدراسات العليا، الجامعة الأردنية، 2004.
• ميشيل فوكو، حفريات المعرفة، سالم يفوت، المركز الثقافي العربي الدار البيضاء المغرب، ط 2، 1976
• نزهت محمود نقل، طبيعة العلاقة بين الخطاب الدعائي والخطاب السياسي، كلية الاعلام، جامعة بغداد، العدد 4،
• يعقيل كمال، دراما الاتصال في الخطاب السياسي الفيلمي، دراسة جامعية، كلية العلوم الإنسانية والحضارة الإسلامية، وهران 2011.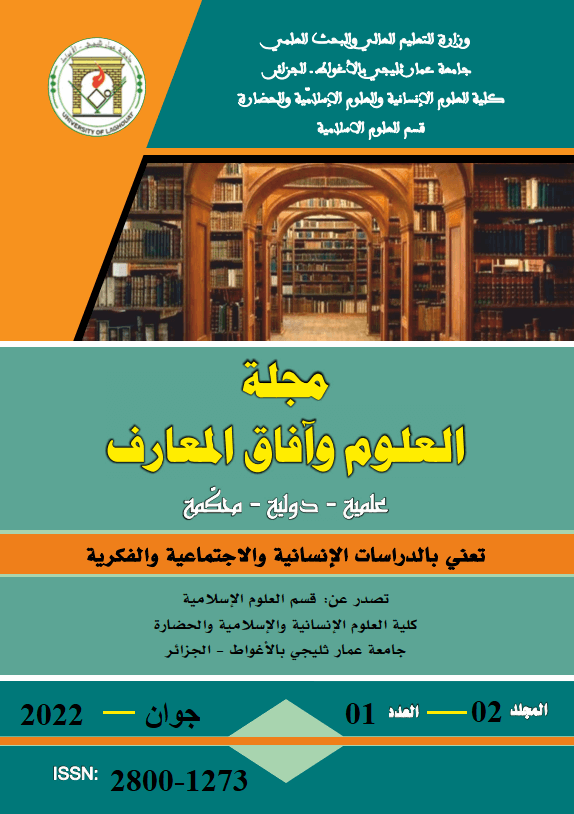 Copyright (c) 2022 Science and Knowledge Horizons Journal
This work is licensed under a Creative Commons Attribution 4.0 International License.
All articles published in our journal are subject to license terms:
Creative Commons Attribution (CC BY NC 4.0) This license allows the reproduction, redistribution and reuse of content in whole or in part for any purpose for free, without any permission from the author (s) or publisher.
All works submitted to the journal for publication in the journal include CC-BY 4.0 license terms. Where available content can be shared, distributed and replicated provided that there is no commercial profit and appropriate credit must be granted to the original source through citations. It is essential that any material used from other sources including figures, tables and images be reviewed for reuse under the terms of the Creative Commons License (CC BY 4.0). Which states:
You are free to share - copy and redistribute materials in any medium or format.
Transfer or construction of materials is carried out under the following conditions:
Attribution You must provide the appropriate credit, provide a link to the license, and indicate whether changes have been made. You can do this in any reasonable way, but not in any way that indicates that the licensor supports you or your use.
Copyright reserved to the journal without restrictions.