Women between the hammer of terrorism and the anvil of corruption "a model for North African women" "a study in political geography
Keywords:
geopolitics, women, extremism, terrorism, corruption, state institutions, North African countries.
Abstract
This research aims to clarify the role of women in their fight against terrorism in its various types of intellectual, ideological, religious and political terrorism that calls for extremism and insecurity and security. Various state institutions and because of this corruption, the roles of women in North African countries have emerged in the struggle and struggle to build a correct base and pillar with which to build their countries and perpetuate their history with honor, pride and dignity for their family, children and people to live a life filled with security, safety and stability in various fields. Where the random sample was relied upon in an opinion poll through an electronic questionnaire distributed on social networks to find out their answers to the questions that revolved around the topic of the research titled above.
References
1- إبراهيم السيد، المشكلات الاجتماعية داخل المجتمع العربي، الطبعة الأولى، دار الكتب المصرية، 2012 م، ص30.
2- حسين العزاوي، موقف القانون الدولي من الإرهاب والمقاومة المسلحة، الطبعة الأولى، دار ومكتبة الحامد للنشر والتوزيع، عمان، 2013 م،ص44.
3- جامعة نايف العربية للعلوم الأمنية، ندوة بعنوان "دور مؤسسات المجتمع المدني في التوعية الأمنية"، الطبعة الأولى، مكتبة الملك فهد الوطنية للنشر، الرياض، 1431 ه، ص201.
4- عبد الله الحريري، كيف الحال" رؤية سلوكية معرفية في الشأن العام والإصلاح الهيكلي والمسؤولية الاجتماعية، الطبعة الأولى، منشورات ضفاف، بيروت، 2014 م، ص 178.
5- عواطف احمد، توجهات المرأة السودانية نحو المشاركة السياسية، رسالة ماجستير غير منشورة، جامعة الجزيرة، السودان، 2015 م.
6- نسيمة بوهراوة، دور المرأة في مكافحة التطرف في دول المتوسط "دراسة لنماذج مختارة"، أطروحة دكتوراه غير منشورة، جامعة باتنة، الجزائر، 2021 م.
7- نعمة خوارمي، مقالة بعنوان" العلاقة بين تمكين المرأة ومكافحة التطرف"، موقع عين أوروبية على التطرف، 05/12/2020 م، https://eeradicalization.co
8- ولد الصديق ميلود وآخرون، مكافحة الارهاب بين مشكلة المفهوم واختلاف المعايير، الطبعة الأولى، مركز الكتاب الأكاديمي، عمان، 2018 م، ص (13-14(
9- هداية شمعون، مقالة بعنوان" النساء.. لازلن قوة غير مرئية لمحاربة الفساد"، موقع أمان، 23 مارس 2019 م، https://www.aman-palestine.org
10- موقع لهيئة الأمم المتحدة للمرأة، جامعة موناش، مقالة بعنوان "المساواة بين الجنسين والتطرف العنيف: ليبيا وتونس والمغرب، لقاء إقليمي، جاكي ترو، ميليسا جونستون، نوفمبر 2019 م، يناير 2020 م،. https://arabstates.unwomen.org
11- ماريا باغاساو، مقالة بعنوان" أهمية دور المنظمات النسائية الشعبية الريفية في التنمية المستدامة للمجتمعات الريفية"، 1 نيسان 2022 م، https://webcache.googleusercontent.com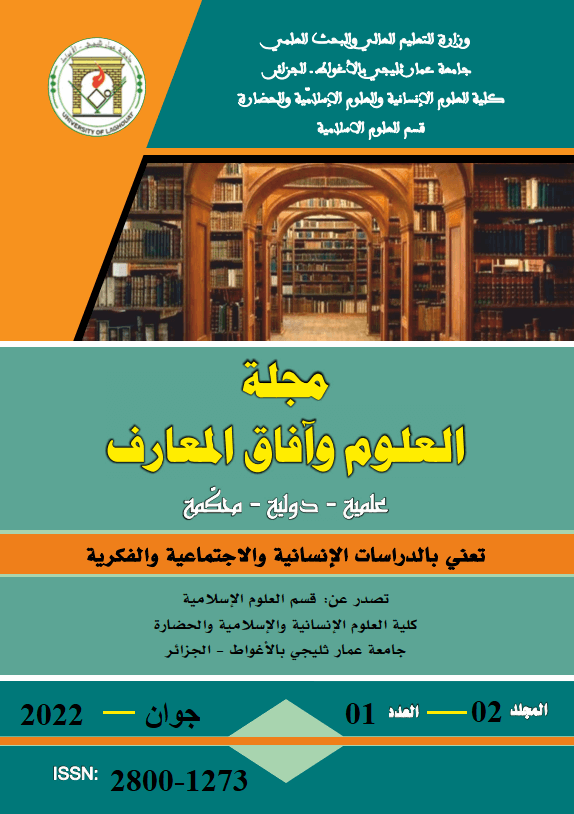 Copyright (c) 2022 Science and Knowledge Horizons Journal
This work is licensed under a Creative Commons Attribution 4.0 International License.
All articles published in our journal are subject to license terms:
Creative Commons Attribution (CC BY NC 4.0) This license allows the reproduction, redistribution and reuse of content in whole or in part for any purpose for free, without any permission from the author (s) or publisher.
All works submitted to the journal for publication in the journal include CC-BY 4.0 license terms. Where available content can be shared, distributed and replicated provided that there is no commercial profit and appropriate credit must be granted to the original source through citations. It is essential that any material used from other sources including figures, tables and images be reviewed for reuse under the terms of the Creative Commons License (CC BY 4.0). Which states:
You are free to share - copy and redistribute materials in any medium or format.
Transfer or construction of materials is carried out under the following conditions:
Attribution You must provide the appropriate credit, provide a link to the license, and indicate whether changes have been made. You can do this in any reasonable way, but not in any way that indicates that the licensor supports you or your use.
Copyright reserved to the journal without restrictions.